TRIP TO TAIWAN PART 1!


Well, I shall seriously blog about my trip to Taiwan, A serious blog post which I need to do!
To sum up the whole trip I will say that....

IT WAS EFFING FUN!
I have always wanted to go to Taiwan..they are like well known for their food and night markets....So, this time, I am able to experience all of it at one go!
DEFINITELY ONE OF THE BEST OVERSEAS TRIP!
Best part will be the packing of clothes etc. Always have problems packing things and all!
This time, I was like thinking "Will the weather be damn cold or just moderate or even like Singapore's?" No clue at all...so I just pack all short sleeve shirts inside my luggage.

I guess all of you have the same problem ba...Day before trip = No mood to sleep!
LOL! That was what happened to me. I totally have no mood to sleep! The thought of being able to go to Taiwan and eat and shop till siao turns me to a Excited Mode!
Off to the airport the next day!!!!!


W
aiting in the departure waiting room is the most excruciating experience!
You know that you are going to board the plane soon yet you have to wait!!!!

Well, as usual, I always take window seats!! HAHA!!!


Wings of the plane that make us fly!!!
Oh ya! We took Eva Airline, a Taiwan Airplane. Think it is like an airplane that only flies from a country to Taiwan.


The time when the plane took off is when I like it most! Kinda like roller coaster flying off the tracks! LOL! Nice comparison I have here :D
We had our lunch on board! For those so ku ku that don even know that the plane provides food...Take a look man!
But, I guess cos this is not SQ Airline so, the food a bit not standard one ar!

Luckily they got something else to make up for this grave mistake!
They actually got this Game and Movie programme machine thing in front of us!

Shucks! I did not take photo of it! BUT never mind la! Haha! Bet it is the same for all airline. Watched THE ORPHAN on board siol! Nice show!

Haha! The flight is around 4 hours time...So, I reached Taiwan at around 5.30p.m. BUT The sky there is damn dark as if it is like 8 p.m.! OMG! Seriously man! Damn dark!

Just look at the difference: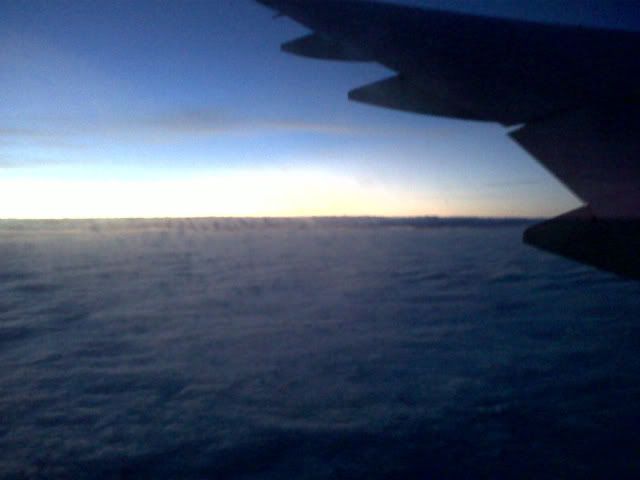 This was taken 1 hour before reaching our destination!
See! Even 1 hour before reaching Taiwan, the sky is already so dim and dark lo!
Did not take a photo of the actual brightness since we all know how dark is 8p.m.

When we reached, it is damn freaking cold la! No choice la! WEAR JACKET!


Then, we proceeded to our hotel for the first day at Tao Yuan - Tao Yuan Hotel
Such a typical name it is lo...
That is the hotel's lobby...So CHEENAAAAAAAAAAAA


However, the stay there was ok la...I mean we hardly stay in the hotel room for long lo.
We only stay in the hotel room for like, 1 night? so only that few hours when we wanna sleep then you can find us in the hotel room.

But, that does not really affect us in any way, at all.



See? Not bad right? It was okay and no probs to me. Since I said, did not spend too much time in hotel one lo. Waste time nia.

As I mentioned, the food on them plane was totally not meants for human's consumption. So, upon reaching the hotel, booked in etc, we went to Miao Kou aka Zhong Zheng night market.

Being well known for their night markets in Taiwan, obviously we have to go there!

Lots of food stalls and shops that sells damn effing cheap clothes! Arcades were also everywhere

But, obviously, my aim of going there is to fill my mouth with their FOOD!!!

I do not want to eat like those really fulfilling food. I wanted to like eat those small items, small items food to munch and eat along the way. Like that hor, I can probably eat everything they sell throughout the whole street!!!!

I ate a hotplate of Black Pepper Steak!!! It comes with noodles, eggs, soup and free flow of drinks!!! Zai set meal!!! Best thing is, it cost only S$4.50!!!! Siao! Singapore confirm cannot find one lo!

Too bad, I never take photo of it.....

I know a bit contradicting right? Cos now I am eating like those fulfilling food...But cos weather too cold already..then somehow or rather the hotplate beef makes me drool...

After eating and stuff, time to buy stuffs for friend or family liao...

One of my shopping list is to buy those scooter helmets in Taiwan. Cos Singapore cannot find as it cannot be used in our country, so found it in Taiwan!



I bought like 6 of them...One of them is for my UGF, RAYMOND!!!!

But, something bothers me now about the helmet I am going to give him...
It is GREEN in colour..Hope he don mind la....Anw, he won be wearing ba...Just Bai Su...
Cos, people will be saying things like..."Dai Lu Mao!" A chinese saying.

Well, he is the only friend I bought the helmet for..The rest are for my relatives and as for other friends, I bought something very special for them!!! HAHA!

Headed back to our hotel after that and took this photo: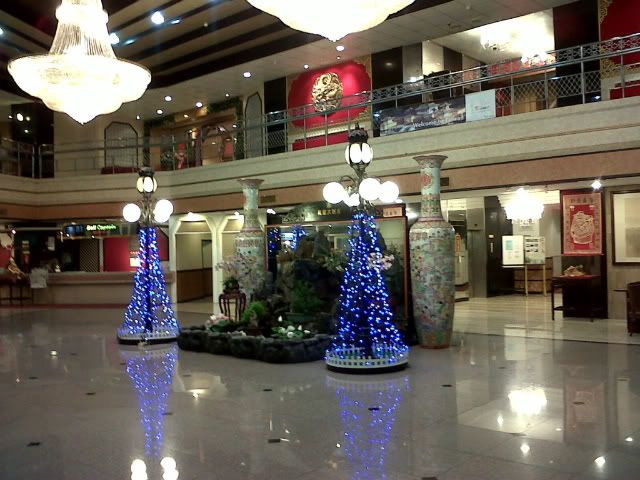 See how simple and cheena it is...
Simple routine, we went back to hotel, packed those stuffs inside our luggage and off to sleep. I was watching the advertisements and shows. The ads there were damn nice and far much more cuter then ours.


FYI, we are changing our hotel everyday as it is a trip throughout the whole of Taiwan!!!
A bit rush but at least we manage to tour around whole of Taiwan... :D


DAY 2 IN TAIWAN!


Breakfast at hotel's lobby and guess what??

HELL LOTS OF BLOODY KUKU CHEENAS!!

Si bei du lan with them lo! I mean I have nothing against them personally but, looking at the way they eat hor, I feel like slapping them!!!!

OMG! They act as if they had not eaten for past few YEARS! Just look at their plates siol! Totally piled up with food!!! Luckily, there are nice and more civillised cheenas out there :D

For the second day, we were heading to Hualien. The exact route we took was:

Taoyuan>>>Taipei Chiufen>>>Yilan>>>Hualien

Went to take the Bullet Train(Taiwan High Speed Rail) to Taipei before going to ChiuFen. Nice experience to be on board the Bullet Train! It is totally the same as an airplane just that it is a train. They even have trolleys going around selling food!!!


Two cute polar bears saluting in an advertisement board!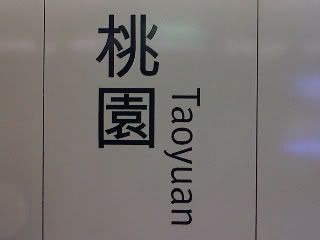 Station name's board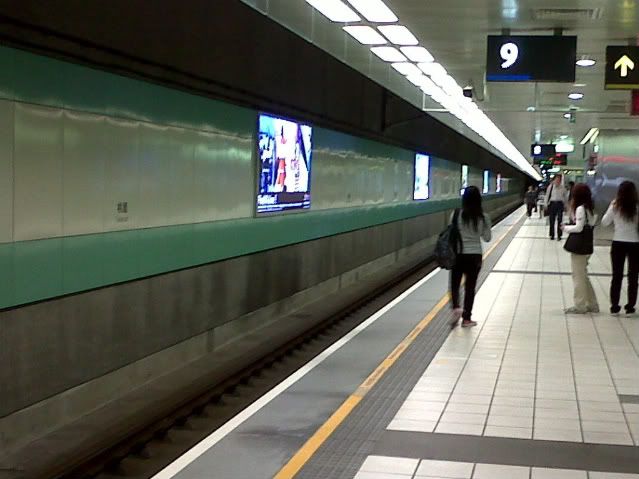 Railway tracks and waiting area!!!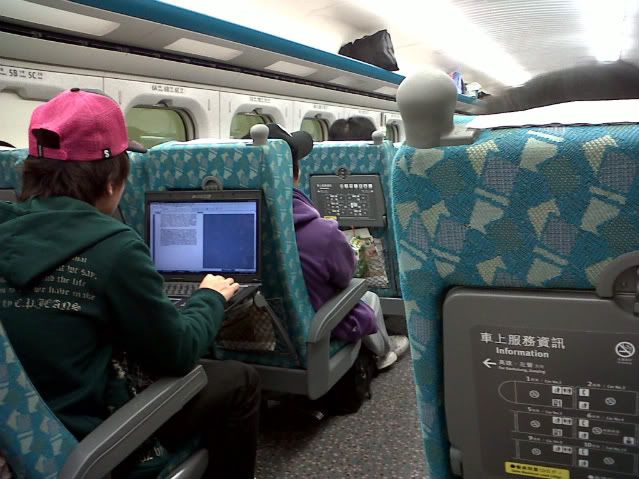 Inside the cabin...
Look like plane right?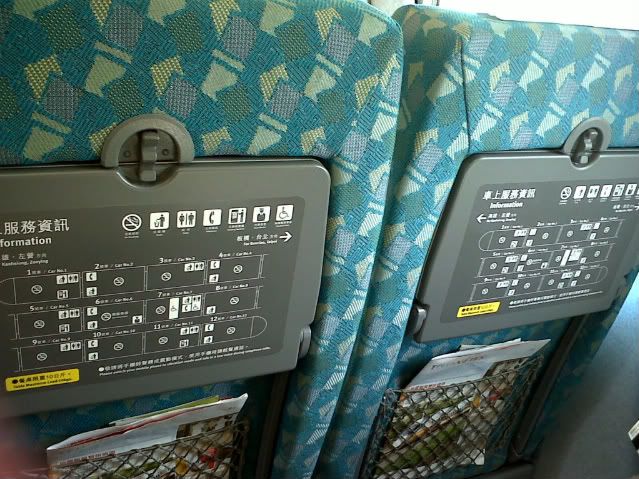 Totally same seating model as an airplane

After that, we reached Taipei station and we alighted. Totally buzzling with lots of people! As it was a Monday, so there are lots of OLs and students getting to work and school.
First thing that raced through my mind when getting out of the station is
"Wow! Damn cold weather which I freaking love it!!!!"

Totally a new experience in a different country. Not really that cold la...just that it is far more off better than the horrendous weather in Singapore. Phew! BAHZZ!!!!
We were welcomed by hell lots of building when we arrived and some very cute sculptures too!!!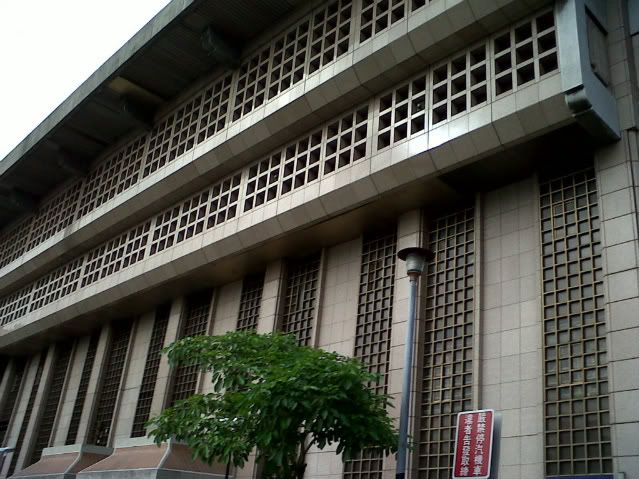 Some building outside Taipei Station with lots of banks!!!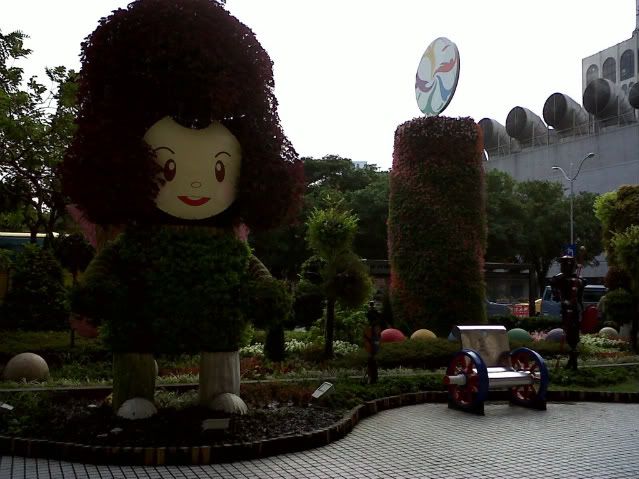 Cute right?! Gosh!!!
After that, we went to National Taiwan Democracy Memorial Hall. A monument built in memory of former president Chiang Kai-Shek. Lols. Don really care who is it...


But, I must really comment that the architectures there are damn Royal Looking! Boomz!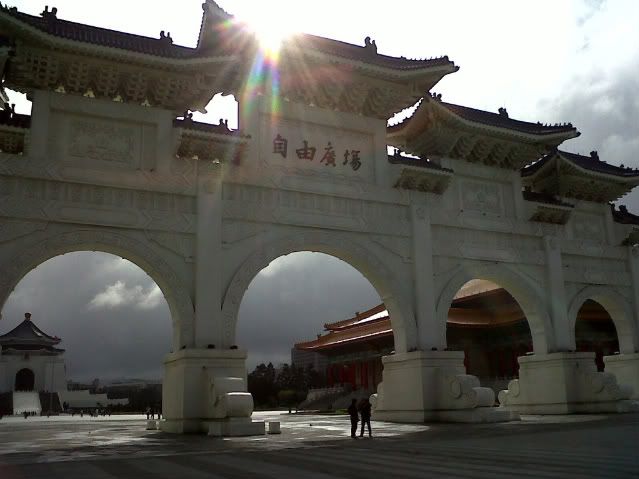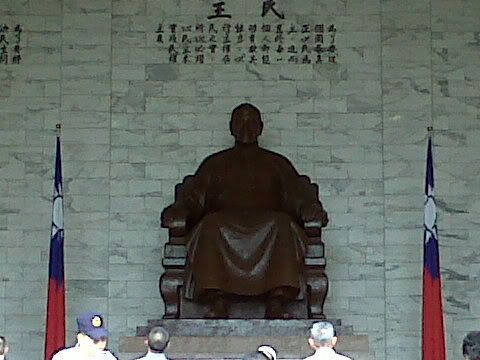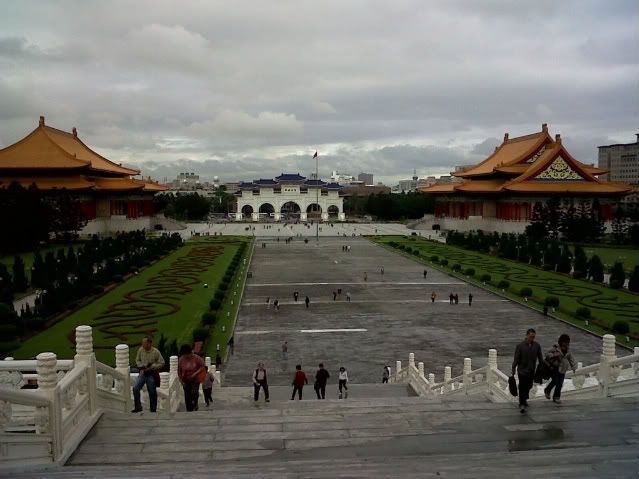 Shoot from the top!!!
After that, we proceeded to Chiufen (which I think should be put as Jiu Fen lo~). A place located up in the hills of northern Taiwan.


It has lots of vintage and old buildings. Seeing people living in the old-fashioned way of life and they released and aura of an old mining town.


I savoured several nice pastried baked on the spot!!! Like the Huang Li Su the best!!!! It is like pineapple tarts...


Bought lots of boxes of it back home as gifts and for personal consumption too :D
It was raining when we reached there. Make the weather far more colder than it was supposed to be...Love it though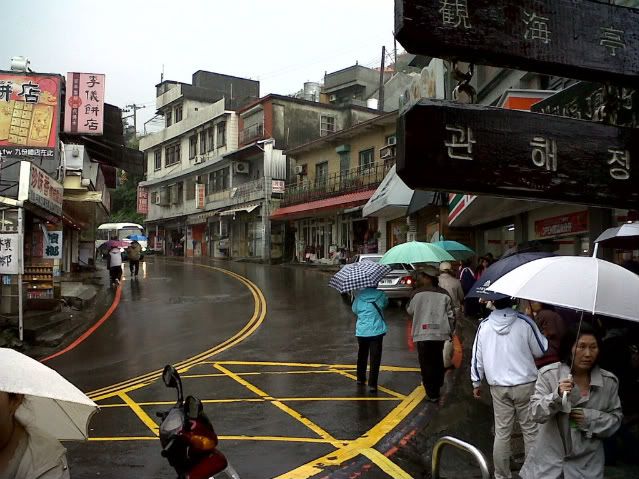 Favourite Pastry Shop in Chiufen!!!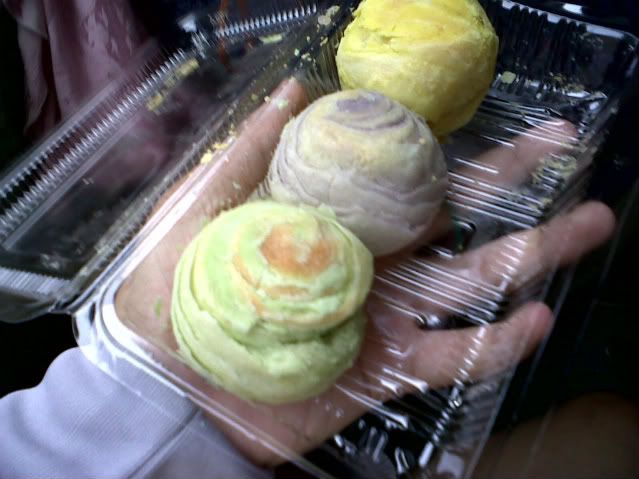 Free Pastries!!!!
We had our lunch there too! And it was damn shiok to eat hot and nice stuffs in a cold weather!! Trust me, you will feel the warmth :D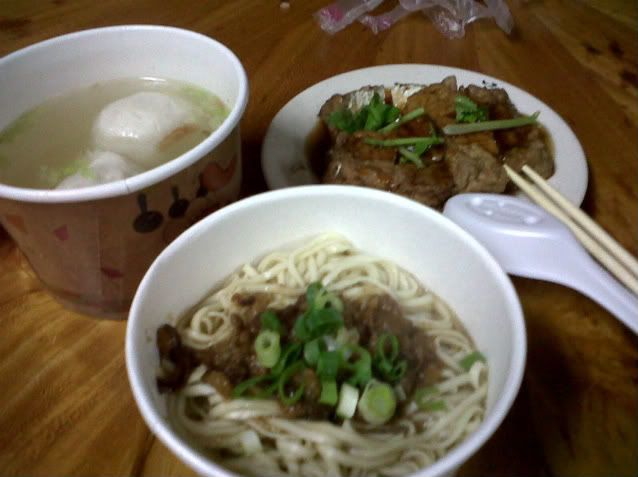 Headed off to our hotel HuaLien after that :D
The tripto our hotel takes like forever! We have to travel through lots of tunnels and mountains before we are able to even reach the foot of Hualien! But, it is good la actually. Cos I can actually sleep for as long as I want :D

Our hotel is actually like a farm. A family farm. Hah! Cos it is rather like living in a town rather than the city. Since Hualien is also a town location rather than a city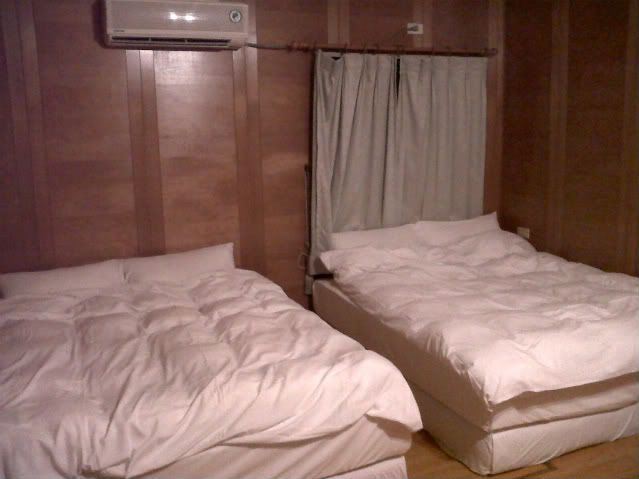 This is our hotel room!!!

I am already done with Day 1 and 2 of my Taiwan trip!!!


Just see! 2 days of the trip only took em so long to blog and to update the pictures!! I still have 6 more days to go siol!!! ARGH!!!


Never mind! Will try my best to finish it ASAP! HAHAHAHA!!!