BRIDAL SHOP HUNTING IN MALAYSIA!
*Anw, this is a post which was OVERLY DELAYED!*
Obviously the hunt for bridal shops is not for me duh! Haha! I guess it might take some time for it to reach my turn. Anyway, this post is kinda dedicated to a loving couple in my family! My

Uncle Alan and his wife-to-be, Xiu Wen

:]
As the title suggests, yes, we did went to Malaysia just to search for the bridal shop. To be more precise, the bridal shop was actually recommended by uncle's friend, who recently got married too and find that the bridal shop he went to was rather good!

Well, I guess as long as the services provided by shop is satisfactory, customers are bound to recommend it to others. This is how business actually expand and earn more $$$!

Ok anyway, I am not here to talk about how people earn money, lol! Instead, I am here to blog about the process of us going to the bridal shop and all :]

I can actually say that they day started off rather unpleasant in the sense that it was raining. However, it makes the weather cooler too...Kinda in a contradiction eh? Haha!

But of course, this kinda tiny winy rain obviously did not stop us from travelling to Malaysia! Oh ya! Did I mentioned this? We actually

DROVE THERE OURSELVES

! Cool right?! First time experience for me. It is totally different from taking a coach there. Try it for yourselves and you will understand.

*Sad that I never take any pics on the way!!!!*

We reached our destination quite fast I must say! Traffic was smooth etc it is as though everything is going very smoothly as Ti Gong knows that we are having a very important mission on hand!

We went to one of the other bridal shop, which was not on our list(We only had one bridal shop on our list, SG Bridal...). Did not take any photos as the shop was so plain looking! It looks just like any other shop...Not attention seeking at all...

As usual la, the sales assistance just went on and on and kept urging my uncle to sign the package that they have. Nah! Of course never sign la! Their so called package like so obit and obiang lo...Not modernized at all...

So we just left and went to the ideal shop

"SG BRIDAL"!




Look! Even the waiting area is so mad classic! SlauteS to them!!!!!!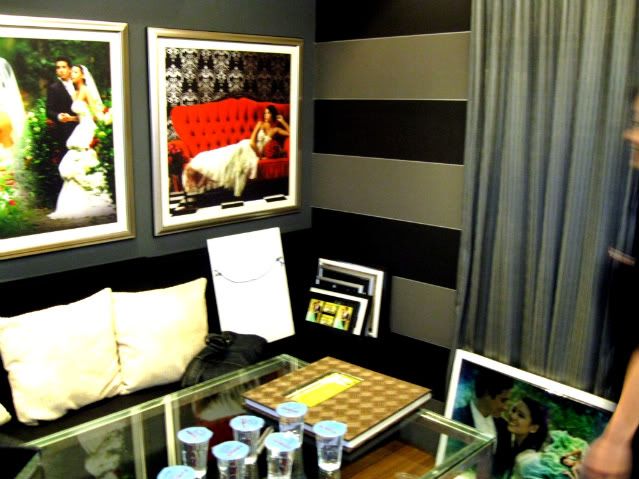 And this is the room which customers are brought to
to discuss about the packages etc.
Though there is waiting area for us to sit comfortably in to wait for out turn, I can assure you that it will be of no use. This is because their waiting time is damn freaking short! We went in the shop for like 10 mins- 2mins to take of our shoes, 6mins to visit the toilet

AND

in 2mins, they served us!
How fast is that?! Mad fast!!!!They definitely deserve many many rounds of applause from us!

On top of that, just look at the room itself! So beautifully decorated with bridal shots! They look damn professional, don't they?

What really awed me was the great extent and extra miles that the bridal shop actually took to make the whole place look classy and professional. Somewhat different from other shops!


I guess these are the minor details which really made the great differences between those normal road side shops and those who are attention seeking and stands out among the lousy(which they definitely do)

OR

even stands out among the best and emerge as the

B

EST OF THE BEST!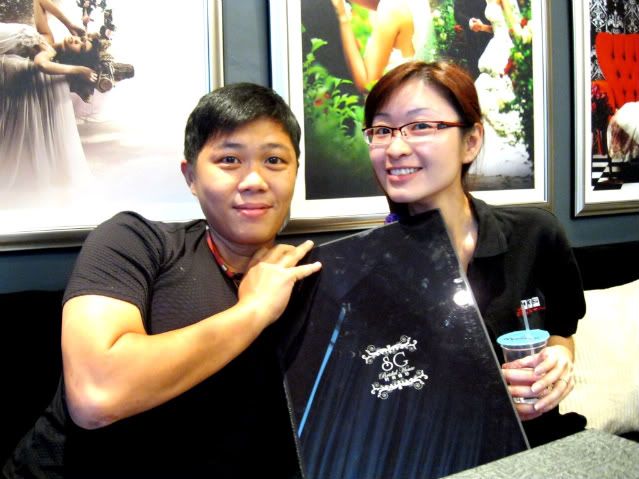 Even both of Alan and Xiu Wen find it irresistible to help SG Bridal to advertise!
Taking photo is more important! *Snap snap snap* Aw...Loving couple eh?! Haha!
The WOW factors that SG Bridal has brought to us simply left us Speechless! That's why the first thing that comes to our mind is to snap more photos!!!! I believe it is rather hard to find such environment with

"Love In The Air"

shop in Singapore.
To me, I guess that when a couple who walked into a Bridal Shop in Singapore, most of them feels that the feeling is very loving etc, is mainly due to the love that they share between themselves. They are kinda like oblivious to the surrounding as they've decided that they are each other's partner for life. So, it is usually not the shop that gives the feeling.
Hoeever, it is totally different for SG Bridal. Even a divorced couple who walked together into the shop, will actually reconcile and be together again! LOL, this is too far stretched!
Well, the salesperson was Uber Friendly to the max! She's funny, hilarious, entertaining and definitely

GOOD

at pitching sales.
Take a look at the funny expression that she actually gave occasionally!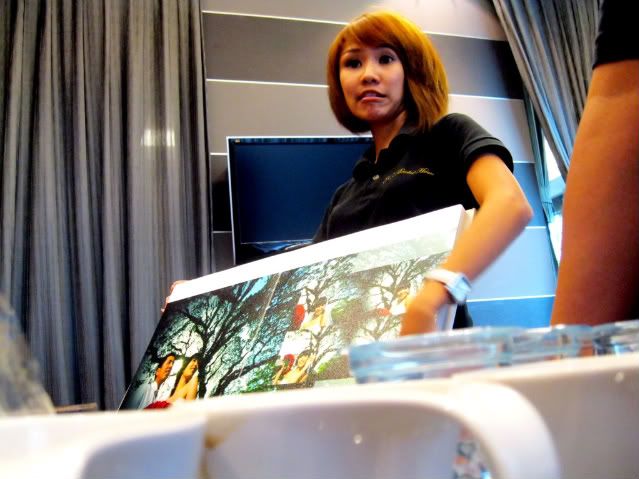 Well, if I were an employer, I will definitely employ her! She has her own ways of treating the customers as her own friends and bond with them together as one! This is something which not all salesperson can do. They normally tend to focus more on pitching sales and not interacting with the customers.

Personally, I feel that if the salesperson knows how to interact with the customer and bond with them, he/she is already halfway there to getting the sales. I mean why would people actually want to go to a shop and look at the moody faces of those people?!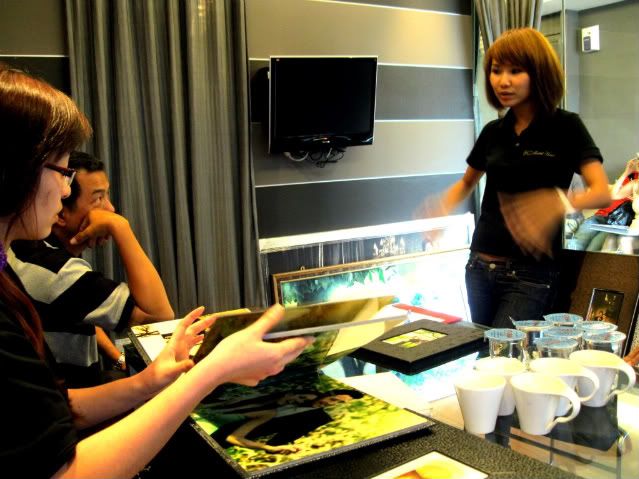 Meticulously explaining every single details to us! THUMBS UP!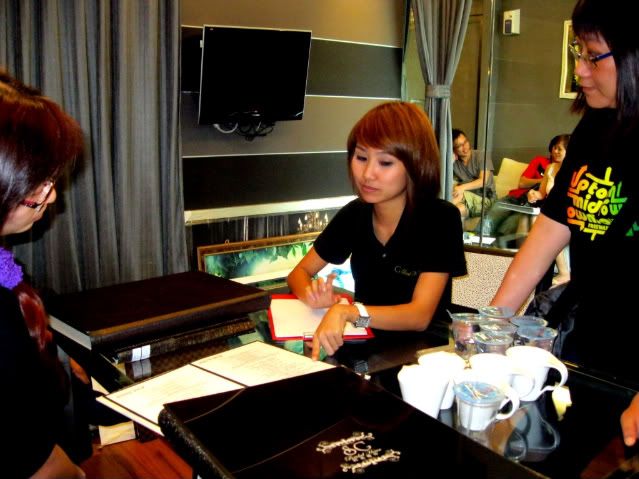 Well, needless to say as I've mentioned earlier, my uncle signed the package with them! They deserved it right from the start! Surprises and

EXCELLENT

services provided was more than enough to support why we should sign with them!
Anyway, see those cups on the table? They actually provide all kinds of hot beverages for their customers regardless of weather they will sign the package or not! First thing they ask will be "What hot beverages would you all like to have?" Where to find this kind of service?!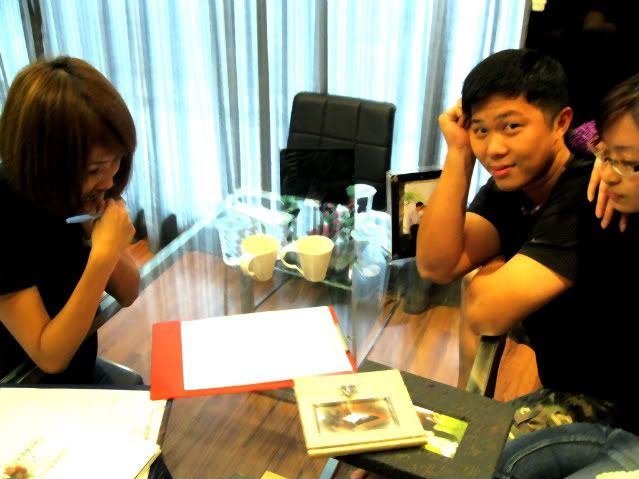 My happy uncle who is going to sign the invoice after going through all details :]
After all those shop-hopping and all, it is dinner time and we ate at this place which, I've totally no idea where is it and what it is called! Ok, I know it is in Malaysia! Haha!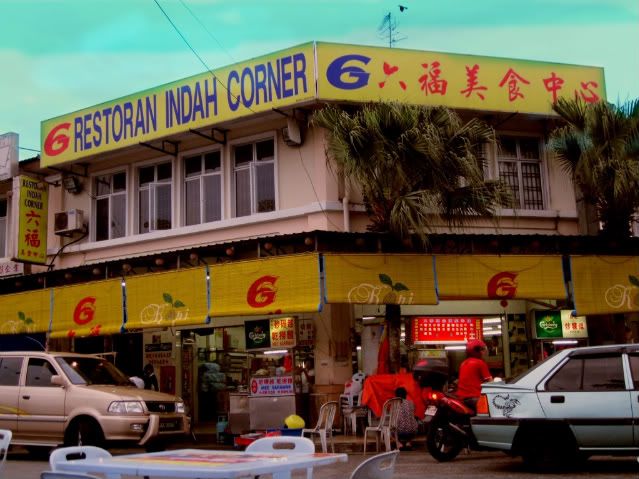 Well guess this marks the end of this post!
I wish that my Uncle and Aunt-to-be will live together in eternal bliss!
As for those who are going to propose to your Girlfriend and want to have a glamorous wedding and wedding photos, go check out

SG BRIDAL

soon!
P/s: My photo here are indeed edited...The theme will be more of a wider contrast between the birghtness and the colors. Haha! My next Blog entry will be more on vintage-look-alike photos!