Everyone is talking about being fashionable, by wearing some fashionable pieces of clothes or even using the latest technology. It actually varies from person to person. From top to toe, anything can actually be a part of fashion. Clothings, to shoes and even accessories.
That is a reason why I like to dress up too! It actually helps one person to carry different types of style for different occasions, and trust me, it does change a person's appearance a lot!
There is never enough pair of shoes that we can actually own in our very own cabinet. We all have different pair of shoes to go along with the different outfits that we carry for each different days or occasions! Footwear does change the overall appearance of a person, as such, it is advisable for us to own a least a certain variety of shoes within our cabinet.
You will not want to look out of place just because of a pair of shoes am I right? HAHA.
Clothings does play a big part too! In today's society, what you wear is what people see you as. That's what we all call first impression. Just imagine you wear flip flops, with singlet and shorts and stride right into a restaurant.... Everyone will give you the stare and mumble among themselves...
Being out of place is gonna be very weird for us. As such, clothings play a relatively important aspect of creating a person's image. That's what people think of you and that's what they remember you for. It's like creating a branding for yourself.
Simply put "You are what you wear".
But, have you ever stop by and wonder that there are actually much more meticulous details to be taken into consideration if we are to talk about fashion or being fashionable. Indeed a piece of nice apparel will make you look good, bu what about small details such as accessories?
They could be small in terms of size, yet they can make drastic changes to a person's overall appearance as well. They act like garnishes to dishes of food, thus adding colors and excitement to the person's outlook.
When we all talk about accessories, we will think of necklaces, bracelets, rings, earrings and many more to be mentioned. But, I personally feel that watches do act as a form of accessory too! They help to create a certain image for us, for different events. And each watch is different from the others, and they are unique as individuals.
As such, it is also an interesting experiment to see which type of watch is suitable to go along with the different styles that we are carrying for the day!
The above are the 4 types of watches which I usually wear and I am going to show you the different types of style that they actually go along with!
The first watch which I am gonna start off with will be the

basics

. Most of us do own a watch that looks just that simple yet classic at the same time. For those who like to dress with just a simple top with jeans or Bermudas, by simply wearing a basic watch, will actually create a certain style to your look.

Just look, although I am only wearing a simple lack tee and berms, with the complement of the watch, it actually adds some sort of style to the overall appearance. It makes you look simple yet not too sloppy at the same time.
There are also times when we wanna look a bit more like a party boy or something that's casual smart as well! So, for me, I would wear a basic black tee, accompanied by a pullover or a jacket, as you can see from the above picture.
As you all know that jackets usually cover up to our wrist, as such it will be a wiser choice for us to wear larger sized watches, so as to emphasise on that piece of accessory which we are wearing. Matching color with your overall outfit will definitely work better too!
The large sized watch actually creates the image that you're a fun and funky type of person! And that is definitely what you wanna achieve amongst the crowd of party! So, shine and showoff your looks with just that attention catching piece of watch, acting as an accessory too!
Going for a job interview or attending a formal function? That is when you need a watch that is able to pull off the professional look! And more that often not,

metal watches

are the best choice for us! With the relatively shiny exterior that it has, coupled with the professionally designed appearance, when we wear it, it will also display the professionalism of an individual as well.
Just take a look at the image above, doesn't the whole image of myself just changed? With the metal watch being worn at my wrist, it has indeed further enhanced and emphasised to people the fact that I am blending myself into a much more serious note and towards the professional aspect as well. It's just amazing how it can just a person's look and of course, creating a different personality too!
Are you going for a jog around your neighborhood or having some workout sessions in the gym? In such situations, the

sports watch

will be just what you need!
As I've mentioned earlier, watches are like accessories and they should actually help to bring out your overall look and not make you look weird or out of place. As such, going to sporting activities, we also do not want to look out of place, yet we would like to have a watch to keep track of the timing of our running or workout sessions as well. So it also boils down to practicality and the sense of style here too!
As such, just by wearing a simple black sports watch like the one above, can actually help to bring out the "I am gonna do sports" kinda look! It actually helps to bring out the sporty side of a person too!
_____________________________________________________________

So recently,

Casio Baby-G

has released a series of newly designed watches that is gonna be available to all of us! They are funky, yet they are not overdone, such that it makes it suitable for most of us to wear!

Being fashionable and not overdoing it

is the essential key selling point that I see from this series of watch by Casio Baby-G!
Below are the watches that are being introduced!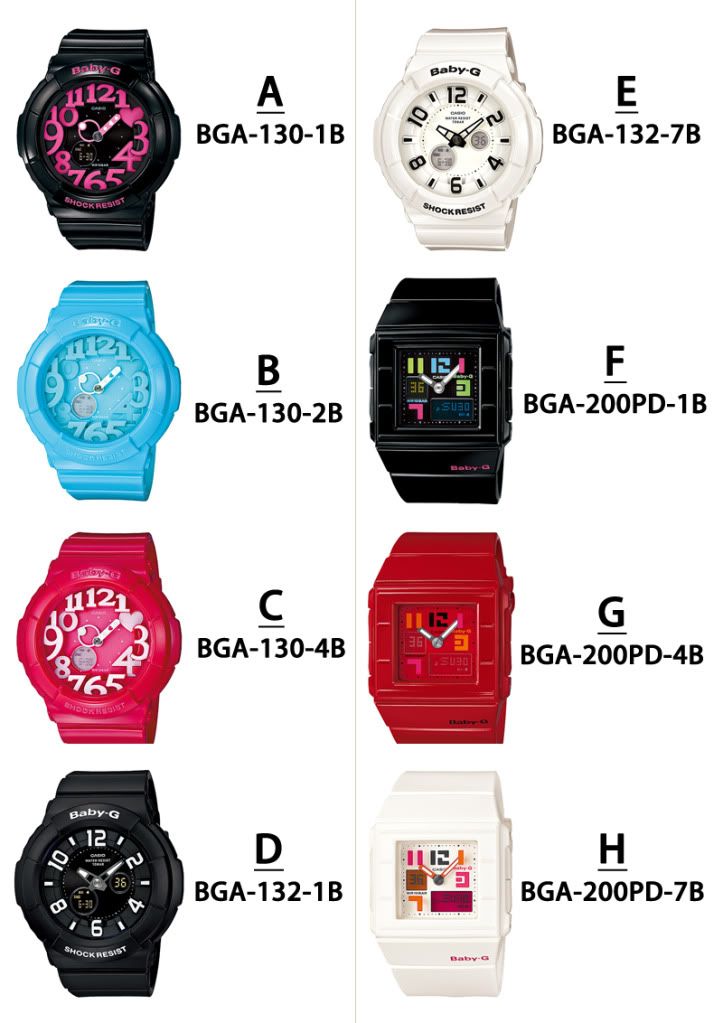 Personally, these are my top 3 favourites (starting from the most well like):
1) [F]: BGA-200PD-1B
2) [D]: BGA-132-1B
3) [G]: BGA-200PD-4B
I love [F] the most because I find that it is very unique in a sense that the design is very funky and colorful, yet I believe that it is suitable for most of the styles that we carry, from casual, to smart casual and even partying! And I feel that the striking colors that is being brought out from the black is very attention catching and it speaks of my loud and joyful personality too!
So I hope that you guys are able to see how watches are being used as a form of accessories in the modern society, given the wide range of choices that we are presented with. They do bring out the character within us and it is indeed something which we should all take note of when dressing for different occasions.
Remember that, fashion is no longer just about donning extravagant pieces of apparels, but also about the small details such the non attention seeking watch which we wear almost everyday! So, do experiment yourself at home and see what kinda style you can actually come up with, with the different watches, and how it can actually change your looks as well!
Enjoy people!!